Egracons Project Meeting in Rome
Dates:
Friday, 24 May, 2013

to

Sunday, 24 May, 2020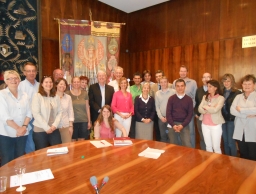 On 23 and 24 May 2013 the EGRACONS Project Meeting took place at Sapienza University of Rome. All the project's full members, associate partners, and an external expert, Maria Sticchi Damiani (Bologna Expert) were present. 
During the 2 day meeting, the Steering Committee presented the project's activities so far including the European Survey that will be launched in the Summer 2013 that aims at depicting the grading cultures in Europe and leading to the preparation of Country Reports. The instructions for the preparation of Grading Tables were also revised and those institutions that have already started the process presented their experience so far. 
The Egracons Co-ordinating team wouyld like to thank all participants for their valuable contributions to the meeting, specially the hosts at Sapienza University of Rome for organising a very successful event. 
The Survey and updated information will be displayed on this website shortly.