Egracons meeting in Leon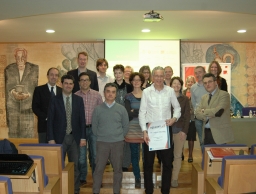 The Egracons team met at the University of Leon, Spain on 6-7 February to discuss the upcoming activities for 2014. The Steering Committee presented preliminary country reports drafted from the information gathered in the European survey on grading systems which will be published in time for the next EAIE Conference in Prague in September. A pilot version of the tool was also presented. The first testing phase of the online tool will take place in June 2014.
The survey will stay open until after the summer, we encourage those who haven't replied yet, to please fill it in here.
Also, those institutions interested in developing institutional grading tables can find detailed instructions on how to prepare them here. If you would like to share them with the project team, please contact us here.