EGRACONS TOOL PRESENTED AT ANNUAL NORWEGIAN INTERNATIONALISATION CONFERENCE IN STAVANGER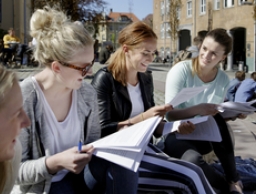 The Egracons partner Dr Anthony Vickers from the University of Essex gave a presentation on the EGRACONS tool to an audience of 40 people representing Higher Education Institutions across Norway at the annual Norwegian Internationalisation Conference in Stavanger (http://siu.no/Om-SIU/Arrangementer/2016/Internasjonaliseringskonferansen-2016).
Anthony's EGRACONS presentation was part of a Workshop on recognition. The co-presenters were Stig Arne Skjerven representing NOKUT / Norwegian ENIC-NARIC who presented on "Recognition on the Move" and Etelka Tamminen Dahl who presented on the topic of "The background and basis for decisions concerning recognition".
The Workshop demonstrated the very great commitment of Norwegian Universities to recognition. The Norwegian grade distribution methodology being used by all Norwegian HEIs was also presented. This provides a good platform for Norwegian HEIs to join and use the EGRACONS tool.