Presentation of Egracons at National Seminar in Trieste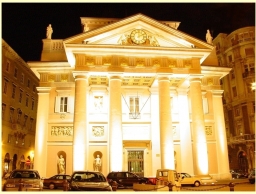 HE institutions from Italy, national agencies and Bologna Experts gathered in Trieste on 15 December at the National Seminar organised by the AFAM Institute on The new ECTS Grading Table: the European Project EGRACONS. The meeting was part of the 2011-2013 Bologna Process Information Campaign.
The Seminar aimed at discussing a common approach to grading in Italy, after the ISCED codes were approved at a national level. The meeting was organised by Prof. Luciano Saso, from Sapienza University of Rome, who is the Leader of Work Package 3 of the EGRACONS project: Conversion Tool Development and Testing.
Maria Sticchi Damiani, external evaluator of the EGRACONS project, presented the new recognition procedures, Prof. Saso presented the project and Fabrizio Fanticini spoke about the new Grading Table and the grade conversion tool.
The meeting provided a forum to discuss the grading system, consult stakeholders and get feedback regarding grading cultures in Italy.
For more information on the seminar, please click here (IT).